GENERAL INFORMATION
Generon S.p.A. develops, manufactures and distributes instruments, kits and reagents for food, feed and water quality/safety control.
It also offers solutions for the pharmaceutical and cosmetic industries and provides diagnostic tools for livestock health.
Generon analytical kits and reagents are based on the most innovative technologies in the areas of immunochemistry, molecular biology and rapid-microbiology.
For 15 years, the experience in agri-food quality control combined with the scientific/technical expertise and a portfolio of selected products, allows Generon to offer a premium support oriented to customer demands.
For the same reason Generon represents today an attractive harbor for any company willing to extend their product distribution in Italy/Europe.
FOOD SAFETY IN OUR GENES
Innovation is the key of Generon growth and success in all our units: sales, marketing and operations.
In particular, we strongly invest in R&D to provide the most efficient solutions. In fact, Generon scientists constantly design and develop new kits, but are also focused on the improvement of the existing ones, validating their use on new matrices.
In this regard, the collaboration with public and private partners, has proven to be crucial.
COMPANY DATA
FOUNDATION DATE: May 5th 2005
MISSION: development, production and distribution of reagents and kits for contaminants detection in food and feed
LEGAL MAIL: generon@legalmail.it
WEB SITE: www.generon.it
VAT NUMBER: IT02993600366
LEI CODE: 815600F64ABC64247B50
REA CODE: MO-348856
COUNTRY OF ORIGIN: Italy
EMPLOYEES: 33
BOARD OF DIRECTORS
Marcello Gatti: President and CEO
Giorgio Montorsi: Senior Vice President
Enrico Arletti: Member
Nicola Bortoletto: Member
Cristina Montorsi: Member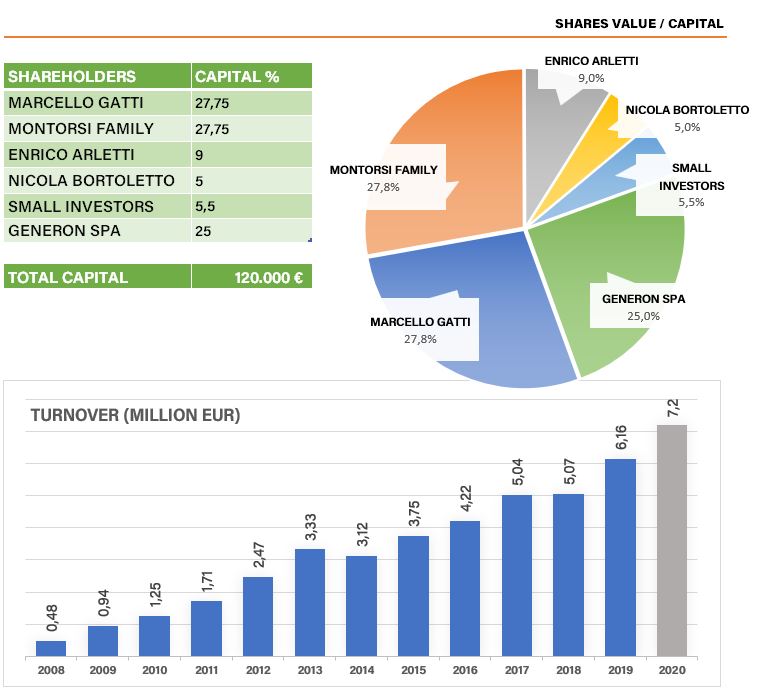 Customer location
Italy, Spain, UK, France, India, Portugal, Ukraine, Croatia, Kazakistan, Marocco, US, Holland, Romania, Greece, Cyprus, Argentina, Belarus, Norway, Ireland, Denmark, Malaysia, Poland, Albania, Slovakia, Luxemburg, Cambodia, Sweden, Switzerland.